Silicone coin purse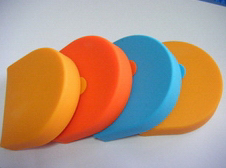 Product name : Silicone coin purse
Model No. : S9113
Price : $1.583 and up
Products Category: > Wallets

Category
Wallets-General
Material
Silicone
Size
2 1/2 " x 1 3/4 " x 1 1/4 "
Shape
Any Shape
Color
Red, Yellow, Blue, Black
Cute latest new silicone coin purse silicone purse with fashionable cute design and reasonable size, is made of silicone and plated iron. Easy to carry and put in pocket. Many colors are available. Custom logo can be printed.
| Quantity | 500 | 2,000 | 5,000 | 10,000 | 20,000 |
| --- | --- | --- | --- | --- | --- |
| Price(R) | $1.917 | $1.867 | $1.80 | $1.683 | $1.583 |
Send Inquiry :
Contact Us
Name: Spider Promotion
Tel: 626 376 9025
Fax: 626 956 0943
E-mail: [email protected]
Add: 233 south 7th Ave ,City of industry Ca 91746