Digital Multifunction Tire Pressure Gauge With Flashlight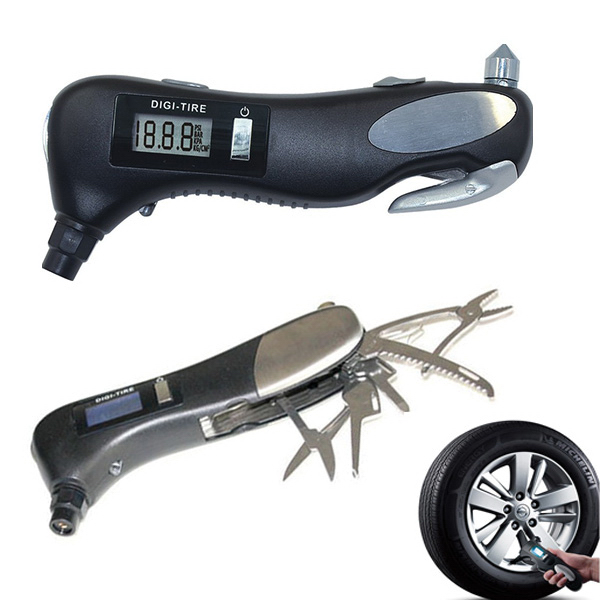 Product name : Digital Multifunction Tire Pressure Gauge With Flashlight
Model No. : S1268
Price : $13.39 and up
Products Category: > Flashlights

Category
Flashlights-General; TIRE GAUGES; TOOL KITS
Material
ABS & Stainless Steel
Size
6 2/5 " x 2 1/2 " x 1 1/5 "
Color
Silver, Black
Shape
Automobile
Shipping Dimensions
15 1/5 " x 15 1/5 " x 10 1/2 "
This multifunctional tool combines tire pressure gauge, flashlight, glass hammer, screwdriver, seat belt cutter, scissors and pliers. It comes with LCD digital screen, white flashlight and PSI, BAR, KPA Tire Gauge mode. Slip switch to turn on/off flashlight. Direct the air faucet to tire air value and press in. Make sure no air leakage and then hold the position until get stable value on LCD. It features compact and lightweight that is ideal giveaway for automobile promotion.
| Quantity | 60 | 150 | 240 | 480 | 960 |
| --- | --- | --- | --- | --- | --- |
| Price(R) | $18.04 | $15.62 | $14.36 | $13.68 | $13.39 |
Send Inquiry :
Contact Us
Name: Spider Promotion
Tel: 626 376 9025
Fax: 626 956 0943
E-mail: info@spiderpromotion.com
Add: 233 south 7th Ave ,City of industry Ca 91746